Urdu should be adopted wholeheartedly: Governor
Bhopal, December 23, 2012 (Muslim Saleem):
Addressing a seminar of "Urdu Heritage Caravan" at Peoples University Auditorium here today, Governor Mr Ram Naresh Yadav said that we will have to adopt Urdu with core of our hearts for conserving Hindustani culture The seminar was organised by Indian Development and Education Associates. He said that Urdu and Hindi are real sisters. It is injustice to link Urdu with any particular community.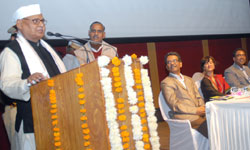 Underlining Urdu journalism, Mr Yadav said that it is an inseparable part of our history as Urdu journalists infused life in freedom movement and awakened masses during those times. He said Urdu language's role in freedom movement cannot be forgotten.
Mr Yadav said that Urdu language's slogans like "Inquilab Zindabad" created zest for freedom among the masses. He said that Urdu newspapers have also played important role in the country's re-construction and development after Independence.
Moving spirit behind this Caravan and Press Council of India Chairman Dr. Markandey Katju said that it is bounden duty of present-day Urdu newspapers to take initiative to help non-Urdu speaking people to learn Urdu.
He said Urdu is a powerful medium to express one's true feelings. Famous poet Mr Waseem Barelvi described efforts to link Urdu with a particular community as cultural corruption. He said that the very meaning of Hindustan is secularism.
Urdu is common, cultural and literary heritage of Hindustan. Editor of Urdu daily Inquilab, Mumbai Mr Shahid Lateef said that the state is trying to marginalise Urdu to impose English on people. He said that Urdu is an Indian language and represents composite culture of the country.
All-India Urdu Editors Conference President Mr Meem Afzal said that Urdu will have to be linked with employment. He said the Urdu will gain its true position only when country's youth and other Indian languages back it.
CLICK TO ENLARGE FOLLOWING PICTURES
IDEAC and Urdu Heritage Caravan convener Asif Azmi with Muslim Saleem at Bhopal on December 21, 2012